About the Center for Business Collaboration
​Center for Business Collaboration exists to solve the critical issues facing our clients, both large and small. Our unique approach is not only what differentiates us, but also what makes us successful. We provide a broad range of services and solutions to help organizations facilitate change, achieve their vision, and optimize performance and productivity.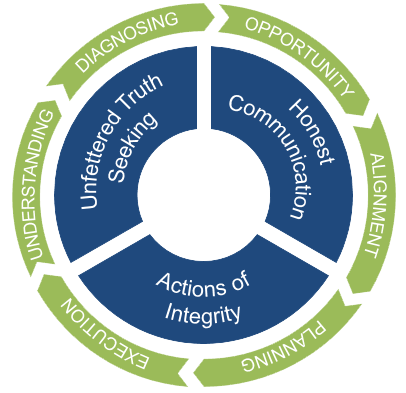 Our Methodology
The Breaking the Performance Barrier Process™ is designed to foster a deep level of collaboration between organizations. Collaboration between organizations has a limited opportunity to succeed if three significant values aligned with the phases of the process are not internalized by each person involved.
Three Values
There are three values, unfettered truth seeking, honest communications, and actions of integrity integrated into the work we do. Without these values, it is impossible for collaboration to fulfill its intended outcomes. Yes, it is possible to carryout unfettered truth-seeking and find it, yet not share that truth or act on it. One could see the truth, honestly and openly communicate it, yet still not act on it. It takes the complete integration of these three values to collaborate because you really can't have one without the others.
Our Vision
To be recognized as collaboration thought and practice leaders dedicated to passing on the knowledge, skills, processes, & tools required to achieve superior results by collaborating with all parties in a decision-making capacity, who have the greatest influence on the outcomes of their stated goals.